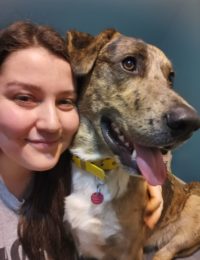 Jill was born in Alberta but grew up calling the North Shore of PEI home.
She slogged through 4 years at UPEI obtaining her BA in English, with the intent of teaching abroad, only to change her mind and return to school for a veterinary assisting program at Oulton College before ultimately joining the team here at CVC in September 2018!
When she has the time, Jill enjoys gardening, keeping indoor plants, drawing, watercolor painting as well as wildlife photography.
However, much of her free time is spent wrangling her mischievous pup, Gibson, or trying to appease her cantankerous kitty, Boo. She also keeps a cute little canary named Bosco, and a freshwater aquarium with a plethora of different fish.
Jill also loves travelling! To date she has been to Japan, Ireland, Italy and Austria with a few hops and skips elsewhere across the globe. One day she hopes to visit New Zealand and Nepal.